Maintaining Mental Health During Challenging Times
Led by GEEARS, PAACT: Promise All Atlanta Children Thrive is a citywide alliance working to support high-quality early learning and the healthy development of Atlanta's youngest children. Over the last few months, we have engaged a number of parents and caregivers of young children who have expressed a desire for increased access to mental health supports. Mental health resources are crucial as families adapt to address the compounded stress of the pandemic, especially for communities of color.
In partnership with CHRIS 180, PAACT is hosting an interactive, virtual conversation on mental health where parents and caregivers will be welcomed to share their stories about the challenges they and their children face during these unprecedented times. Kathy Brown-Bragg, MSW, LCSW, MAC, Project Director- New Generation, Infant Early Childhood Mental Health at CHRIS 180, will share information on how early experiences can impact young children and provide strategies to help families respond effectively to challenging behaviors. We will also hold space for caregivers to share their experiences and offer perspective on what constitutes effective services and support for families.
The ideas and questions from this conversation will inform our work so all families in Atlanta are supported equitably to ensure a stronger, brighter future for all young children and those who care for them.
All registered participants will be eligible for a chance to win a Visa gift card. A total of three people will be chosen at random.
Learn more about PAACT: www.PAACTatl.org
Learn more about CHRIS 180: www.CHRIS180.org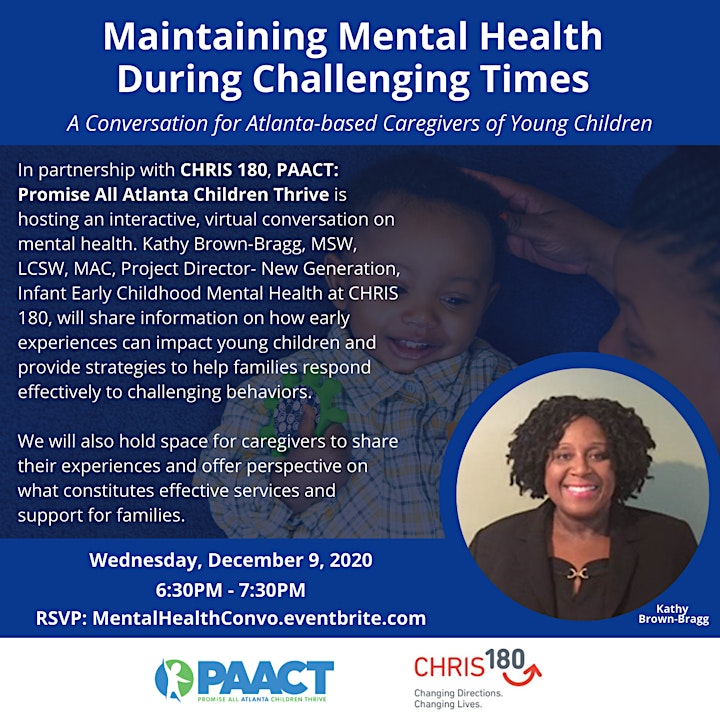 PLEASE NOTE: By registering for this event you consent to receive future updates from PAACT: Promise All Atlanta Children Thrive.